England 1966 World Cup Third Goal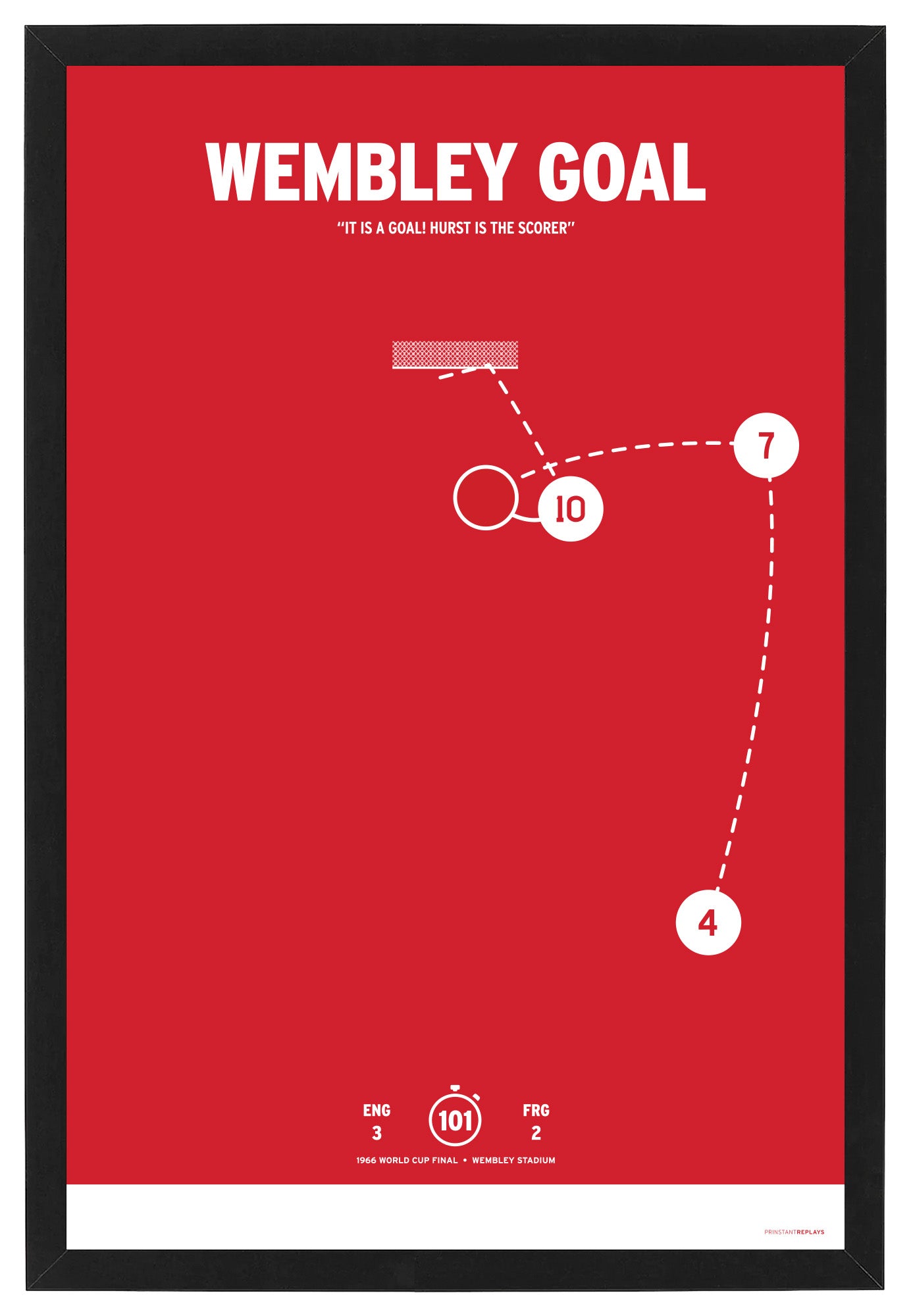 With 11 minutes of extra time gone, Alan Ball put in a cross and Geoff Hurst swiveled and shot from close range. The ball hit the underside of the cross bar, bounced down – on the line – and was cleared. The referee Gottfried Dienst was uncertain if it had been a goal and consulted his linesman, Tofiq Bahramov from Azerbaijan in the USSR, who in a moment of drama indicated that it was. After non-verbal communication, as they had no common language, the Swiss referee awarded the goal to the home team. The crowd and the audience of 400 million television viewers were left arguing whether the goal should have been given or not.

England's third goal has remained controversial ever since the match. According to the Laws of the Game the definition of a goal is when "the whole of the ball passes over the goal line".

In England, supporters cite the good position of the linesman and the statement of Roger Hunt, the nearest England player to the ball, who claimed it was a goal and that was why he wheeled away in celebration rather than attempting to tap the rebounding ball in.
--
The 1966 FIFA World Cup Final was the eighth football World Cup and one of the most controversial finals ever. The match was played by England and West Germany on 30 July 1966 at Wembley Stadium in London. The British television audience peaked at 32.30 million viewers, making the final the most watched television event ever in the United Kingdom.

England won 4–2 after extra time to win the Jules Rimet Trophy. The England team became known as the "wingless wonders", on account of their then-unconventional narrow attacking formation, described at the time as a 4–4–2. The match is remembered for England's only World Cup trophy, Geoff Hurst's hat-trick – the first one ever scored in a World Cup Final – and the controversial third goal awarded to England by referee Gottfried Dienst and linesman Tofiq Bahramov.
High Quality Art Print, printed on Epson Enhanced Matte Inkjet Paper using an Epson P-6000.