England 1966 World Cup Fourth Goal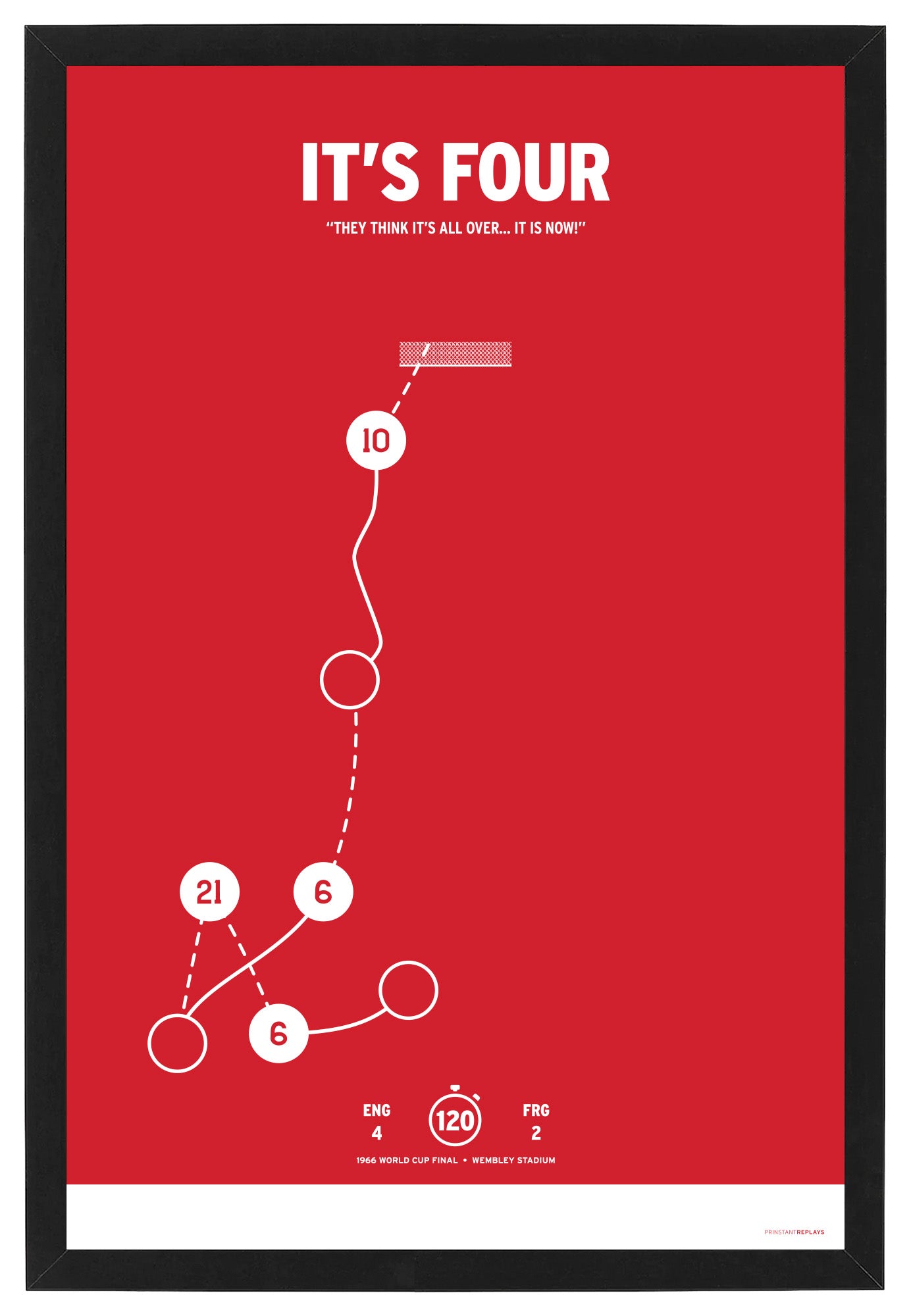 One minute before the end of play, the West Germans sent their defenders forward in a desperate attempt to score a last-minute equaliser. Winning the ball, Bobby Moore picked out the unmarked Geoff Hurst with a long pass, which Hurst carried forward while some spectators began streaming onto the field and Hurst scored moments later. Hurst later admitted that his blistering shot was as much intended to send the ball as far into the Wembley stands as possible should it miss, in order to kill time on the clock.

Queen Elizabeth II presented England captain Bobby Moore with the Jules Rimet trophy.
The final goal gave rise to one of the most famous sayings in English football, when the BBC commentator Kenneth Wolstenholme described the situation as follows:

"And here comes Hurst. He's got... some people are on the pitch, they think it's all over. It is now! It's four!"
--
The 1966 FIFA World Cup Final was the eighth football World Cup and one of the most controversial finals ever. The match was played by England and West Germany on 30 July 1966 at Wembley Stadium in London. The British television audience peaked at 32.30 million viewers, making the final the most watched television event ever in the United Kingdom.

England won 4–2 after extra time to win the Jules Rimet Trophy. The England team became known as the "wingless wonders", on account of their then-unconventional narrow attacking formation, described at the time as a 4–4–2. The match is remembered for England's only World Cup trophy, Geoff Hurst's hat-trick – the first one ever scored in a World Cup Final – and the controversial third goal awarded to England by referee Gottfried Dienst and linesman Tofiq Bahramov.